Why study for a graduate certificate? Because when you're passionate about your work, chances are you want to keep growing, both professionally and personally. A graduate certificate can help you upskill quickly without the fluff.
A graduate certificate in Australia is a specialised qualification that usually takes one semester of full-time study or one year of part-time study. Think of it as a fast-tracked, practical qualification that focuses on one specialisation's skills, designed to help you reach your career goals faster.
If you're looking to get better at your work or put yourself forward for a promotion, a graduate certificate makes sense. It develops critical industry skills while not as costly or time-consuming as a graduate diploma or a master's degree.
As a level-8 postgraduate qualification on the Australian Qualifications Framework, a graduate certificate sits just under an Honours year (for a Bachelor's Degree) or a Graduate Diploma.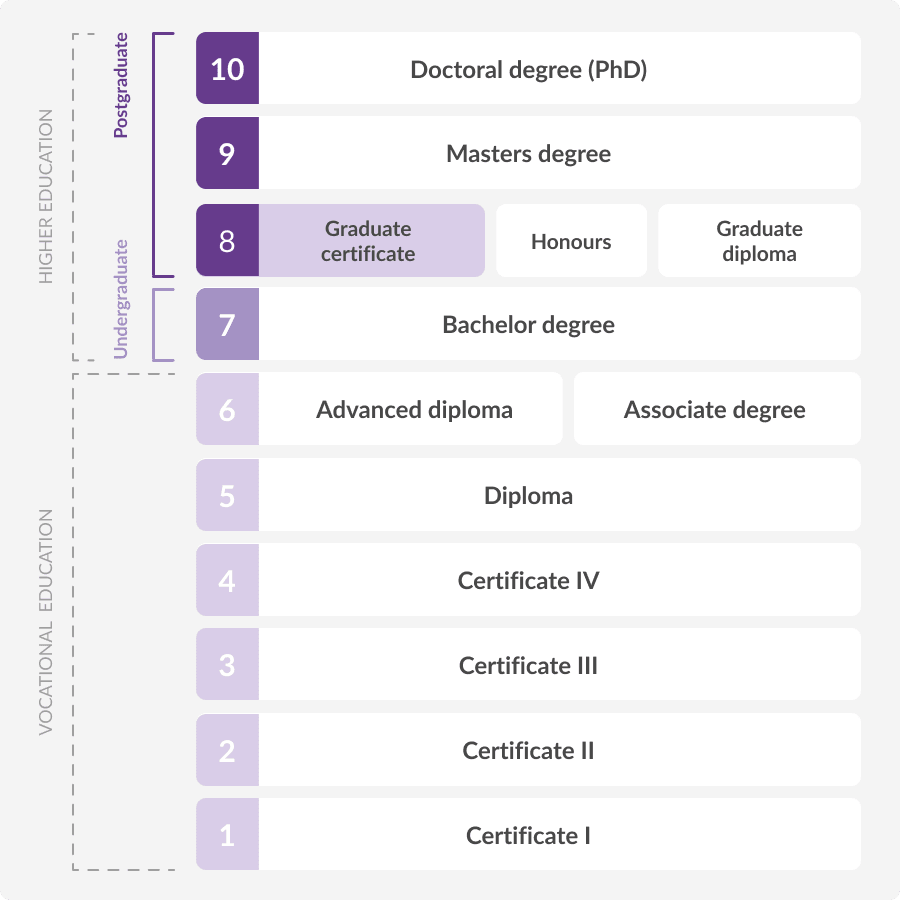 A bachelor's degree is an undergraduate university qualification, usually taking three to four years of full-time study to complete. It provides students with a strong foundation of knowledge on a broad discipline of studies such as Science, the Arts or Business. At AQF level 8, a graduate certificate sits above a bachelor's degree.
You don't necessarily need a bachelor's degree to embark on a graduate certificate. Anyone who has completed a certificate IV or equivalent in their chosen field meets the entry requirements of most graduate certificate courses. To complete a graduate certificate or a "level 8" qualification, you should have advanced knowledge and skill within your chosen profession or field. Most people who have worked in their profession will meet this criterion.
Successfully completing a graduate certificate can be a stepping stone toward into academic journey and fully-fledged postgraduate studies. It can be used as a bridging qualification, allowing you access to a more advanced course, like a master's program. However, not all masters degrees have a graduate certificate entry pathway. So for those hoping to jump feet first into the land of postgraduate studies, make sure you do your research.
Levelling up in your career can sometimes feel like a slog. And maybe you know further study is the way to go, but navigating all the options gets confusing. How and where should you upskill? Do you need to spend years completing a masters?
Not necessarily. The graduate certificate is a super-targeted and well-regarded qualification. It's a great alternative to a full-time postgraduate degree that can take years to complete, and you won't need a bachelor's degree to get started.
Here's why a graduate certificate could be the perfect choice for you:
A graduate certificate is a highly specialised qualification. It aims to develop advanced specialist knowledge and skills within your chosen field so you can move forward in your career. As the graduate certificate is only six months long, the coursework and learning outcomes are relevant and practical.
A graduate certificate's shorter, more specialised nature means you have more control over what you learn than longer postgraduate courses. The certificate focuses more on practical application than theoretical knowledge, leaving less room for irrelevant, core units to take up your time.
Choosing to complete a graduate certificate shows your employers (and yourself) that you have a passion for your work. It shows your drive to upskill and can open the door to forward progression in your industry.
Graduate certificates are only one full-time semester long. Most RTOs offer part-time study options and online or blended study methods. Not only are graduate certificates more flexible than their longer postgraduate counterparts, but they also have lower tuition fees. Rather than pay for two-three years of full-time study, you only need to pay for one semester, and FEE-HELP loan schemes are also available.
Many people choose to complete a graduate certificate to prepare for a new leadership position. By honing in on specific skill sets within your field of choice, you demonstrate the initiative, passion and knowledge required of leaders in any sector.
Some industries that particularly encourage specialised upskilling via graduate certificates include:
A Graduate Certificate in Management is perfect for managers looking for targeted professional development.
Graduate certificates are also popular in areas like project management, business administration and digital marketing leadership.
The Graduate Certificate in Data & Cyber Management is an Australian Defence Force Approved Program, designed for leaders who need to manage technical experts and stakeholders. Graduate certificates are also popular in areas like data science, business analytics, and cyber security.
Graduate certificates are popular in areas like mental health nursing, nursing, and counselling.
In the hospitality industry, graduate certificates are great for upskilling in areas like hospitality leadership, hospitality management and hospitality decision-making.
If it's time to take the next step in your career, but you need a leg-up with some focused, effective upskilling, it's time to enrol in a graduate certificate.
This 18-month course combines practical and theoretical learning to give you expertise in all thing's pastry. On this course you will learn everything from Gateaux to Croissants to Cheesecakes to Buffet showpieces. The role of a Chef Patisserie is a sp…
This qualification reflects the role of pastry chefs who have a supervisory or team leading role in the kitchen. They operate independently or with limited guidance from others and use discretion to solve non-routine problems. The role of a pastry chef…
Train to be a chef with the Certificate IV in Commercial Cookery [SIT40516]. Our 18 month course combines practical hands-on kitchen skills with how to successfully manage a kitchen You will learn all the hands-on skills required to serve the role of a…
Start your career in hospitality by training as a commercial cook. Gain the hands on & theoretical knowledge to work in a commercial kitchen & start that first step into the kitchen! This course provides practical and theoretical knowledge of a…
Prepare yourself to work in a range of community service areas such as Aged Care, Disability, Youth Work and more. The social and community services sector is predicted to experience strong growth over the next 5 years with an excess of 50,000 job open…
AHC20416 Certificate II in Horticulture is currently available as part of a school-based traineeship. The Certificate II in Horticulture will teach you the fundamentals of planting, potting and maintaining trees, shrubs and plants, how to recognize pla…
Take your passion for caring to the next level and upgrade your career! The health and aged care sector are experiencing strong growth, with the Australian Government expecting more than 50,000 job openings in the industry over the next five years. Thi…
Become a valued and integral part of the health and community services industry with this qualification. You will learn how to support independence and wellbeing, gain a range of technical skills, and develop a range of transferable skills from communi…
Great news, the Certificate IV in Disability has two intakes in 2020. One for those already employed in the industry (night classes) and one for those who are looking to enter the disability sector (day classes). For our daytime class, The Gordon will…
Are you passionate about working in the hair or beauty industries? Hair and beauty salon assistants perform routine tasks in hairdressing or beauty salons. This course will teach you how to work in a busy hair salon or day spa. You will learn to commun…
The community services industry is set to boom over the coming years, so there's no better time to join this dynamic and rewarding sector. Our nationally accredited CHC32015 Certificate III in Community Services suits entry-level and experienced commun…
The Certificate IV in Engineering has been designed for existing engineering tradespersons along with apprentices who choose to study at a higher level. The job role involves application of additional skills in the learners' trade or cross skills from…
This qualification provides you with the practical skills and knowledge to draw and design the necessary specifications an engineering workshop needs to manufacture goods. This course develops on your existing knowledge in how to produce different engi…
This qualification is designed for you to become a qualified tradesperson in the fabrication field. This qualification defines the skills and knowledge required of an engineering tradesperson – fabrication within metal, engineering, manufacturing…
This specialised engineering course is designed for those who are entering a technical (non-trade) industry occupations. This qualification gives you an insight in how to organise and communicate information, interact with computing technology, and par…
This qualification is designed for you to become a qualified tradesperson in the mechanical field within the metal, engineering, manufacturing, and associated industries or other industries where engineering mechanical tradespeople work. This qualifica…
Great news, the Certificate IV in Disability has two intakes in 2021. One for those already employed in the industry (night classes) and one for those who are looking to enter the disability sector (day classes). For our daytime class, The Gordon will…
Do you love the idea of working with animals? Are you looking to undertake further study to develop your career in the animal care industry? This course provides a pathway into a veterinary nursing career or other animal care roles. You will learn to w…
Embrace your creativity and launch your artistic career by learning from current practising artists. You will explore a variety of art mediums and techniques while you learn drawing, painting, printmaking, sculpture, jewellery making, photo digital ima…
If you're looking to pursue a career in the field of modern science, this course is your perfect pathway. You will build on the skills and knowledge gained from previously completing the MSL40188 Certificate IV Laboratory Techniques as well as focusing…
Sabrina is currently studying her Bachelor of Arts/Music while freelance writing. When she's not by her computer you can find her by the piano or enjoying a coffee in the sun.
Thinking about a career in vet nursing? Find out what's involved in the job and discover if it's the…
If you're striving to write an A+ essay, there are 2 main components you need to work on: content (w…
Are you looking to become one of the brave first aiders in Victoria? We round up the most popular co…
Keen to start a career in aged care? Find out how to get qualified and which courses are eligible fo…
Get expert advice, insights, and explainers on tricky topics — designed to help you navigate your learning journey with confidence.
We'll email you updates on job trends, career advice, study tips, news and more.
Share this post with your friends!
Would you like to visit our New Zealand website instead?