AdNews Newsletter
The digital advertising growth train has hit the COVID-19 wall. 
The value of online advertising in Australia fell by 12% to $2.03 billion in the June quarter compared to the same three months last year, according to the IAB Australia Online Advertising Expenditure Report (OAER) prepared by PwC.
The dip took the total online advertising market for the financial year to $9.1 billion, a rise of just 1% for the 12 months. 
The previous year, digital advertising grew 7% and the year before 11%. 
"We anticipated a tough quarter for the industry," says Gai Le Roy, CEO of IAB Australia.
"Within this, however, video is proving to be extremely resilient and holding steady year on year. We are also seeing retail, government and technology experience the largest increase in share compared to the previous quarter."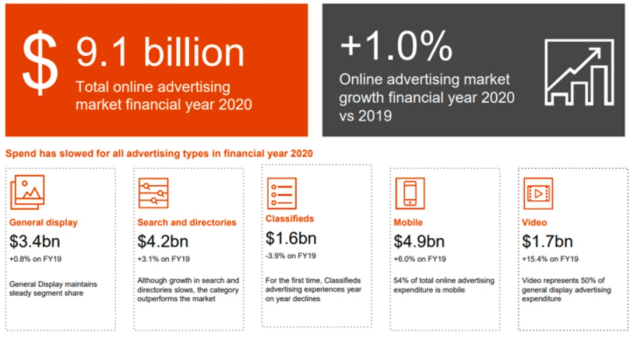 All online advertising categories fell. Search and Directories was down 9%, General Display 11% and Classifieds the steepest at 22.7%.
Video outperformed the overall general display market, with no year change in expenditure, increasing its share of the general display market by five percentage points to 53%.
The shift to programmatic reached a new peak, the latest June quarter with 44% of all advertising on content sites bought programmatically versus 41% from agencies using insertion orders (IOs).
The percentage of inventory bought directly from advertisers fell to 15%.
The bulk (65%) of content publisher's video inventory was bought programmatically in the June quarter, up nine percentage points from the previous quarter.
In categories, Real Estate and Entertainment dropped out of the top five during nthe quarter, with Media and Technology joining Retail, Automotive and Finance.
The Retail sector had the largest increase while Travel had the largest fall .
Financial Year 2020
Spend slowed for all advertising types in financial year 2020 with Classifieds recording the biggest dip, reflecting falls in consumer confidence and spend. 
General Display is up 0.8% to $3.4 billion, Search and Directories up 3.1% to $4.2 billion, Classifieds down 3.9% to $1.6 billion. 
Video is the biggest growth category, continuing to achieve double digit growth, up 15.4% to $1.7 billion.   
Share of expenditure moved from desktop to connected TV during financial year 2020. Connected TV accounted for 38% of content publishers video expenditure by device, with Desktop at 35% and mobile at 26%. 
The top five industry categories were Automotive, Retail, Finance, Travel and Real Estate. Retail and technology experienced the largest increase in share (up 1.3% points). 
Automotive experienced the largest decline in share, down 5.7% points.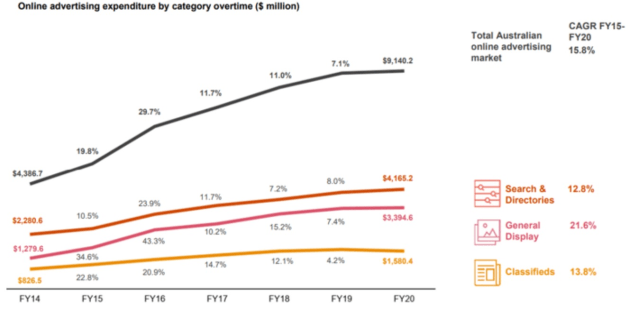 Have something to say on this? Share your views in the comments section below. Or if you have a news story or tip-off, drop us a line at adnews@yaffa.com.au
Sign up to the AdNews newsletter, like us on Facebook or follow us on Twitter for breaking stories and campaigns throughout the day.
The AdNews enewsletter, brings you the latest advertising and media news direct to your inbox! Become a member and get the weekly newsletter free!
We acknowledge the Traditional Custodians of country throughout Australia and their connections to land, sea and community. We pay our respect to Elders past and present and extend that respect to all Aboriginal and Torres Strait Islander peoples.