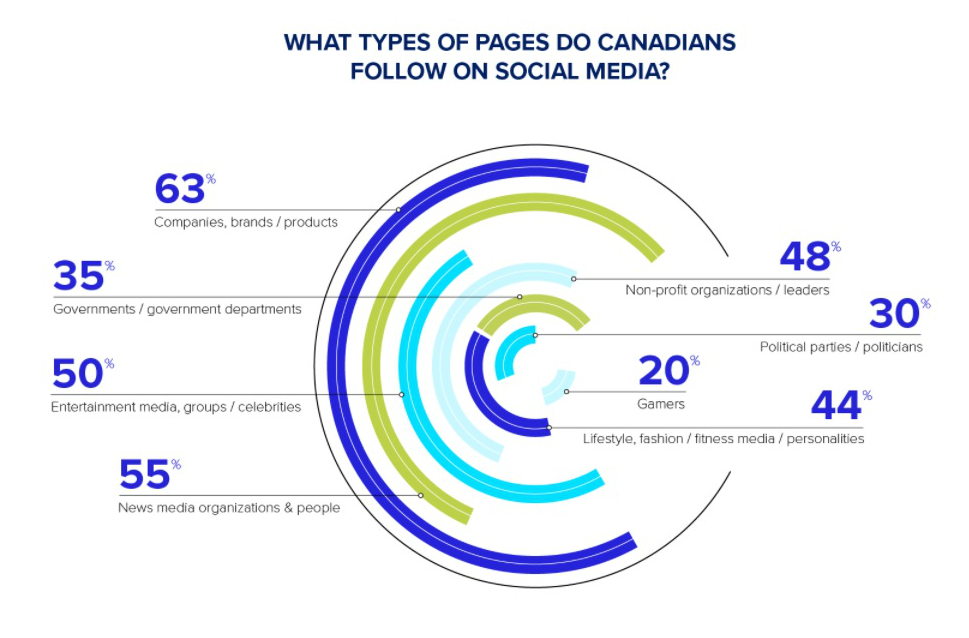 By the time 2017 came to a close, more Canadians were following brands than celebrities or news organizations, according to a new study of social media trends conducted by Winnipeg-based Sherpa Marketing.
Sherpa combined primary research with statistics from sources such as Media Technology Monitor and Statistics Canada to connect the dots on how the country's social media habits have evolved.
Sixty-three per cent of respondents said they follow companies and brands on social media – more than any other category including news media organizations and people (55%) and entertainment media/celebrities (50%).
In total, 22.7 million Canadians had a social media account by the end of 2017 – a number that had grown by more than half a million in the last two years. Two-thirds of Canadian social media users use their accounts every day.
The study showed brand spending on social went up in 2017 — 71% of brands report increased spending on social media, while 60% reported spending increases in online display and 62% report mobile display spending increases.
But Sherpa's research showed only 46% of businesses studied use social media to promote their brands, and only 38% use social media to sell products or services. While that may come as a shock to those used to seeing numerous social advertisements from national brands in their feeds, Sherpa's report said that smaller, local businesses such as plumbers or tax advisers might not see the value.
"There isn't enough data to support a single conclusion [as to why some don't use social], but the common objections we see in digital marketing have to do with lack of time or just plain apprehension," the report read. "'Who will care about my business on social media?'"
Facebook is the most popular social service among Canadian social users (75% of respondents use it, with 4% reporting increased usage in the past year). Although Twitter still remains slightly higher than Instagram for usage (37% use Twitter, 34% use Instagram), Instagram saw a larger increase in usage in 2017 year (14%) than Twitter (10%).
Sherpa Marketing, social media
Comments are closed.